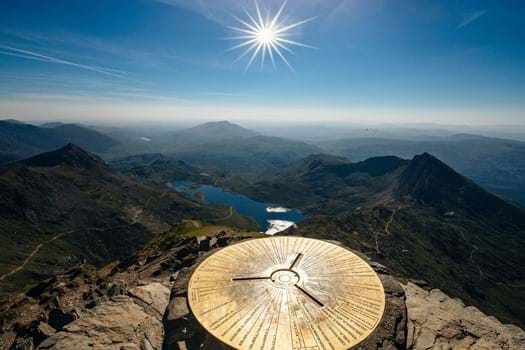 Yr Wyddfa - Snowdon
*English Below*
Llwybrau i gopa'r Wyddfa.
Mae Cymru yn adnabyddus ar gyfer eu mynyddoedd, anturiaethau ai golygfeydd. Nid ydi trip i ogledd Cymru yn gyflawn os nad oes taith fyny'r Wyddfa wedi cael ei drefnu. Un o brif fanteision Yr Wyddfa yw ei fod yn hwylus i gyrraedd y copa ar gyfer pawb, dim mater lefel heini nac oedran – mae llwybr addas i oll.
Dyma rhai o'n ffefrynnau ni fel teulu:
Llwybr Llanberis:
Hwn yw'r llwybr fwyaf cyfleus i ddringo, ond hefyd y hiraf, 5 milltir o hyd. Dyma yw'r llwybr gorau i'r rhai ohonoch sydd eisiau arbed eich egni ar gyfer un o nifer o anturiaethau eraill sydd gan Ogledd Cymru i gynnig. Ar eich taith i fyny, byddwch yn gweld golygfeydd o fri, a hyd yn oed tuag at Sir Fôn. Ar y cyfan, dyle'r daith gymryd tua 6 awr i gwblhau. Mae'r llwybr yn dechrau o ganol Llanberis, lle mae posib parcio eich car yn y pentref.
Crib Goch:
I'r rhai ohonoch sydd eisiau antur a hanner – beth am drio'r llwybr hwn. Dyma un o'r llwybrau anoddaf i fyny'r mynydd, ddylech chi ddim ond ei drio os ydych yn brofiadol ac yn dda gydag uchder! Cymerith tua 4 awr i gerdded (neu ddringo!) i'r copa. Unwaith eto – peidiwch â mynd ar y llwybr hwn os nad ydych yn brofiadol.
Llwybr PYG:
Os am geisio gwneud y mwyaf o'ch gwyliau yma yng Nghymru, beth am fynd fyny'r llwybr PYG. Dyma yw'r ffordd cyflymaf i gyrraedd y copa, yn ogystal â'r llwybr gyda lleiaf o ddringfa – efallai mai dyma'r rheswm mai hwn yw'r un o'r llwybrau prysuraf! Mae posib cwblhau'r llwybr o fewn 3 awr, nid yw hyn yn golygu fod y llwybr yn hawdd, gall fod yn serth mewn rhannau, ac felly, fel arfer, mae'n bwysig cymryd gofal.
Trên Stem:
Os nad oes awydd cerdded arnoch, beth am deithio i'r copa ar drên stem treftadaeth. Mae'r daith hwn yn para 2 awr gyda chost o £44 ddwy ffordd i oedolion. Dyma'r ffordd hawsaf i arbed eich egni ar gyfer gweddill y dydd – ond elwa ar y golygfeydd godidog o'r ardal. Ar gyfer tymor 2022 oherwydd Gwaith cynnal a chadw, fydd y trên yn terfynu yn Orsaf Clogwyn, sydd ¾ y ffordd i'r copa. Cadwech mewn meddwl, nid yw'r trên yn rhedeg yn y gaeaf, ac awgrymwn ​eich bod yn archebu o flaen llaw.
Atgof:
Ond cofiwch, peidiwch byth ceisio dringo llwybrau sydd ddim yn addas ar gyfer eich iechyd chi. Mae hefyd yn hanfodol cofio fod y tymheredd ar y copa llawer is na thymheredd ar waelod y mynydd, ac felly mae gwisgo'n addas yn bwysig, gan gynnwys esgidiau cerdded. 
Ond, peidiwch â phoeni – bydd cyfle i ddal gwynt a chynhesu unwaith yr ydych wedi cyrraedd y copa yng nghaffi Hafod Eryri, sydd yn arferol agored dros dymor yr haf. Ond yn anffodus, ni fydd y caffi ar agor tan 2023. 
Be well na dychwelyd i Hendre Rhys Gethin gan ymlacio yn y twb poeth! (ble bo un ar gael yn eich llety).
Pathways to the Summit of Yr Wyddfa (Snowdon)

North Wales is well known for its rugged scenery, towering mountains, and adventurous activities. But a holiday to Snowdonia wouldn't be complete without a climb up Wales highest peak. One of the main advantages of Yr Wyddfa is it's accessible to people of all ages and abilities – there's a route for all.

These are some of our family favourites:

Llanberis Trial
This can be considered the most convenient to climb, but also one of the longest, at a length of around 5 miles. It is the best path if you'd rather conserve your energy for one of the other activities that North Wales has to offer. On your way up, you will experience incredible views as far as the isle of Anglesey. The round trip will take approximately six hours to complete. This is also convenient as the path begins in Llanberis, where you can park your car.

Crib Goch
For the thrill seekers amongst you – why not try this path. It's one of the hardest ways to get to the peak of the mountain, do not attempt if you're not very experienced or have a fear of heights! It will take around 4 hours to walk (or scramble) to the peak and back.
Once again – please do not attempt this if you're inexperienced.

PYG
If you're looking for the fastest way to the top to make the most of your break here in North Wales, this path might be the one for you. It is the fastest route up to the summit, maintains the least amount of climb – Perhaps this is the reason that it's one of the busiest paths up! Your whole journey can be done in as little as 3 hours, although keep in mind that this doesn't necessarily mean that the path is easy, as it can be steep at times, so as always, care should be taken.

Heritage Steam Train
If you don't fancy walking, why not travel up in a heritage steam train. The journey lasts 2 hours and comes at a price of £44 per adult. This is the best way to conserve you energy for other activities for the rest of the day, but still benefit from the spectacular scenery offered.
For the 2022 season, due to engineering work, the train will only go 75% of the way to the summit. Also, keep in mind that the train doesn't run during the winter and it's recommended to book in advance.

After arriving back at Hendre Rhys Gethin, if you caught the train or climbed the intimidating crib goch path, don't forget to put your feet up, relax – and soak in jacuzzi hot tub if you have one!


Reminder
Please bear in mind that Yr Wyddfa can be dangerous, do not attempt pathways that are unsuitable for your experience level or health. It's also critical to be aware the temperature at the summit is a lot cooler than and the foot of the mountain, therefore suitable clothing and walking shoes are essential.
But don't fear – you can catch your breath and warm up once you reach Hafod Eryri, which is the café at the summit that's usually open during the summer. Although unfortunately will not be opened until 2023.