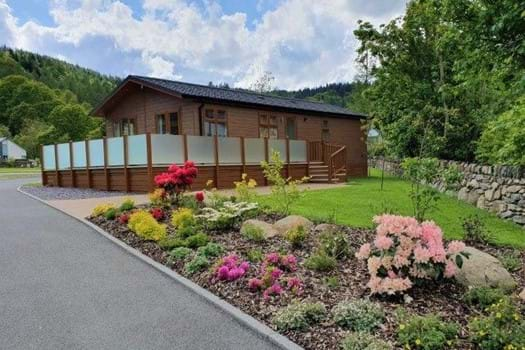 Our newest lodge - Llyn Alwen
Welsh version below.
We would like to start by thanking all of our customers for supporting us and being so understanding over the past few weeks, things have been challenging at times, but we feel that with additional precautions in place we are succeeding to operate safely.
As talks began about the relaxation of lockdown, we received an unprecedented number of bookings and enquiries. This kept us very busy, but also made us realise that we needed to get more Lodges to be able to accommodate the Guests wanting to visit this stunning area that we are so lucky to live in.
We decided to prepare an additional Lodge, the Llyn Alwen ready for rental. We had our first guests stay here at the end of July, and are now fully booked until the 11th of September. So if you are interested in a staycation this year, we recommend you to book early to avoid disappointment!
Our current policy for any bookings affected by COVID-19 is we will allow you to change your dates (while waiving the usual admin fee) or receive a full refund. Because of this generous policy – there really is no reason for you to not book with us!
Hoffwn ddechrau drwy ddiolch i'n holl gwsmeriaid am ein cefnogi ni dros yr wythnosau diwethaf, mae wedi bod yn heriol ar adegau, ond rydym yn teimlo gyda'r rhagofalon ychwanegol ein bod ni yn gallu gweithredu yn ddiogel.
Fel dechreuodd y trafodaethau ar gyfer codi'r cyfnod clo, roeddem yn cael gymaint o ymholiadau ac archebion. Cadwodd hun ni yn brysur iawn, ond fi wnaethom ni hefyd sylweddoli ein bod angen fwy o Gabannau I dderbyn fwy o westeion i ymweld â'r ardal hyfryd hon.
Mi wnaethom benderfynu baratoi Caban ychwanegol, y Llyn Alwen ar gyfer ei rentu. Arhosodd y gwesteion cyntaf yno ddiwedd mis Gorffennaf, ac mae nawr yn llawn erbyn 11eg o Fedi. Felly os rydych chi a diddordeb i ddod yma, archebwch yn fuan i osgoi cael eich siomi.
Ein polisi ar gyfer archebion wedi ei heffeithio gan COVID-19 yw cynnig i chi newid eich dyddiadau (am ddim) neu dderbyn ad-daliad llawn. O achos y polisi hwn, does ddim rheswm i chi beidio archebu gyda ni!