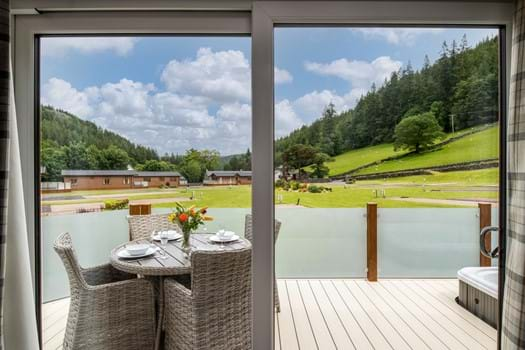 Summer 2021
Summer Months
It's peak summertime rush here in Betws-Y-Coed and the weather this last week has been absolutely fantastic. Our recent guests have been so fortunate with the weather – and we're sure that the hot tub lodges have been used to their fullest!
It's at times like these where we can really appreciate our surroundings in Snowdonia, and although we personally have been too busy to find the time to relax and enjoy the weather, it has been lovely to see the village bustling with visitors being able to enjoy our wonderful area.
           One beautiful activity that we would recommend in this weather is the riverside walk alongside the river Llugwy starting from Pont y Pair. This is an easy and relaxing walk with the beginning of the track having boardwalks making it accessible for wheelchairs and pushchairs. The noise of the river and the shade of the trees makes this the perfect way to cool down, and if that's not enough a splash in the river will do the trick!
           We hope that this weather will stay here for the rest of the season so our visitors can make the most of their time here, mind you the plants would benefit from some rain.
If the recent reviews are anything to go by, the guests have been having a great time with us, thank you all.
           Dyma ni wedi cyrraedd ein tymor prysuraf yn Eryri ac mae'r tywydd yn anhygoel. Mae ein gwesteion diweddaraf wedi bod yn ffodus iawn a dwi'n siŵr eu bod nhw wedi bod yn gwneud y mwyaf o'r twb poeth!
           Ar ddyddiau fel hyn fedrwn wir werthfawrogi ein hardal, ac er ein bod ni wedi bod yn rhy brysur i ymlacio a mwynhau'r tywydd, mae wedi bod yn hyfryd gweld y pentref yn llawn ymwelwyr.
           Un peth ardderchog i'w wneud yn y tywydd yma ydi cerdded ar hyd yr Afon Llugwy, gyda llwybr da yn ei wneud yn bosib i gadeiriau olwyn a phramiau fynd arno i fwynhau. Mae sŵn yr afon a chysgod y dail yn ei wneud y ffordd berffaith i oeri yn y tywydd poeth, ac os nad ydi hynny yn ddigon – mae bosib mynd i ymdrochi yn yr afon.
           Rydym yn gobeithio y bydd y tywydd yma i aros am weddill y tymor, er mwyn i'n gwesteion cael gwneud y mwyaf o'i hamser yma – oherwydd yn ôl adborth diweddar mae ein cwsmeriaid wedi bod yn cael amser gwych gyda ni!